Hello, You've Found The Portal Wiki
448 Articles — 14,617 Edits
Eric Weinstein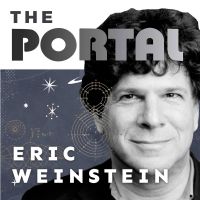 Eric Weinstein is a dad, mathematician, Managing Director of Thiel Capital, and host of The Portal Podcast. His speaking on a breadth of topics ranging from physics and economics to culture and society form the basis of this wiki.
Eric is also developing Geometric Unity, a unifying theory of physics.
The Portal Community
We are a project-driven community spread over many interest areas and a variety of backgrounds. We are dreamers and doers who use the tension between these two states. If you are too, then find something that interests you and contribute what you can.
Community Projects
Graph, Wall, Tome
Fundamental physics seems unreachable for many. This project and its subprojects aim to map and convey the information necessary to understand the most vibrant realm of human knowledge. (On Discord)
Slipping the DISC
In almost any field of human activity, mechanisms emerge to suppress or downregulate low-quality ideas in order to maintain an institution's functions. These mechanisms become pathological when they are repurposed to suppress truth, research, and innovation that may upset or drastically alter the institution's structure, ultimately in betrayal of its purpose.
Meta Projects
Tracking the Portal's many ideas can be difficult. These projects organize and reconvey those ideas, or develop technology to convey them.
Quest Board
Portal Ideas
General Knowledge
Reference
Video/Audio
Podcasts
Mathematics
3Blue1Brown - YouTube channel for educational mathematics content
Richard E. Borcherds - YouTube channel for mathematics lectures by Fields medalist Richard Borcherds
Physics
Spaceflight
Websites
Portal
General Resources
Mathematics
Physics
Culture
Tools
Software
Audio/Image/Video Editing
Programming
Productivity