The Portal Podcast
Jump to navigation
Jump to search

This article is a stub. You can help us by
editing
this page and expanding it.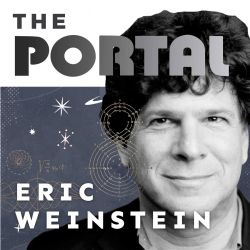 The Portal Podcast was launched by Eric Weinstein on 24 June 2019. Its name taking inspiration from "portal story" motifs in literature, the show aims to bring its audience into contact with the most fundamental and transcendent aspects of reality, to break the almost-universal intellectual stasis that pervades our institutions, to foster individual sense-making, and to galvanize the search for a more hopeful, transformative future. Since launch, the podcast has released 43 episodes: 36 interview episodes, 6 solo episodes, and 1 special.
"The Portal is an exploration into discovery, including conversations with thought leaders. Host Eric Weinstein, Managing Director of Thiel Capital, brings his unique expertise and diverse roster of guests for a wide range of discussions, including science, culture, business, and capitalism. The show will feature people whose lives demonstrate that portals into what we would normally consider impossible, are indeed possible."
Before the show's launch, it held the top of the iTunes podcast charts.